The Sky's the Limit Package
(10 days)
For any potential Spitfire Pilot our conversion course and will take you step by step to allow you to gain the necessary skills in order to be able to fly a Spitfire solo.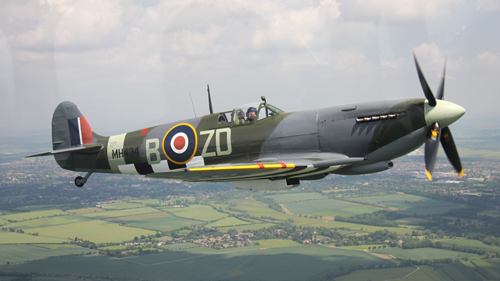 Aim : To complete an intensive course of Flight training to take you through all the basic Tailwheel skills and complex training in order to convert onto the Spitfire.
Ground School : Approximately 30-50 hours
Flight Training : Will include the courses listed :
Tailwheel Conversion
Tiger moth or Chipmunk Conversion
High performance complex type conversion (5hr)
Spitfire Conversion training Course
Cost £71,032
Course pre-requisite: Current ICAO PPL and Medical.
Notes : As with all flying training the courses, the syllabus hours are a guide only and some pilots may require additional flight training and ground school. If you do not meet the minimum hours for the purpose of Insurance, you will not be allowed to fly solo. You will be informed when you have achieved the required solo standard but you will have to fly with one of our instructors acting as a safety pilot.
Classic Wings Spitfire Training Courses
Booking Information
FOR MORE DETAILS CALL CAPTAIN BARRY HUGHES ON 01255 424671 OR EMAIL barry@classic-wings.co.uk