Daks over Duxford – 3rd, 4th & 5th June 2019
A FEW SEATS STILL AVAILABLE!  Fly in the Dragon Rapide in formation with a DC3/C-47, the most important transport aircraft in history.  Or fly in a Harvard to view six Daks in formation (3 seats left on Monday) These special flights are a once in a lifetime opportunity as part of the "Daks Over Duxford" event taking place at IWM Duxford to commemorate the 75th Anniversary of the aircraft's significant role in the D-Day invasion.
Classic Wings offer a whole range of flying experiences
with 10% off if you book to fly before 1st June*
Use discount code: 

early19 
*Excludes Spitfire fights
New for 2019 – Fly in the Harvard with a duo of WWII aircraft flying in formation with you! 
A trial flying lesson in the Harvard is a truly unique experience, and just to make the flight even more amazing you will have not one but two fighters flying alongside you.  Choose from the Spitfire and BF109, or the Spitfire and Hurricane. 
Click below to find out about all our fighter duo formation experiences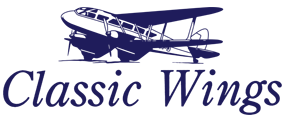 Not just a flight at Classic Wings but a whole day out.
All our vouchers include FREE entry to IWM Duxford (and half price entry for friends and family) where you can marvel at over 85 acres of aviation and military exhibits, including Concorde, Spitfires, Gulf War jets, the Lancaster and over 200 more rare and exciting aircraft. With our range of vintage and modern aircraft, original Gift Vouchers and Corporate Hospitality opportunities, we have something to offer everyone.