Spitfire Pilot Training Day
You will receive ground school and flight training in the three aircraft types that were commonly used in training RAF pilots in the Second World War, the De Havilland Tiger Moth or Chipmunk, The North American T6 Harvard and the iconic Super marine Spitfire.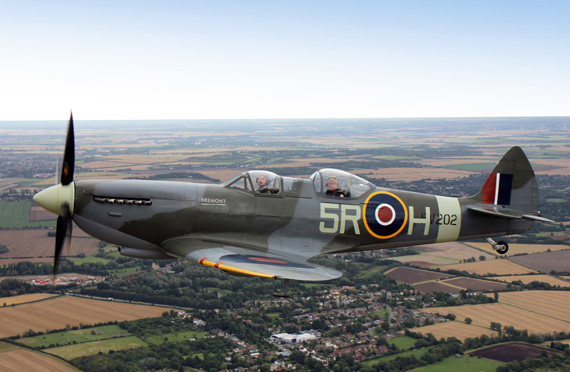 So what do you expect from this course?
On your arrival you'll be welcomed by one of the Instructors and will then have a short presentation to the day that will give you an insight into the training that was given to RAF pilots. During the day you will be given pre flight briefings followed by flight training. Firstly in the Tiger or Chipmunk you will be taught the basics of tail-wheel aircraft operation. Then move on to the complex Harvard where the emphasis will be on preparing you for the high performance Spitfire. Finally you will then see a Video and have a pre flight briefing to include emergency procedures and drills before you take to the skies in the world's most iconic aircraft.
We clearly won't have enough time to teach you all you need to know to fly all of these aircraft in the day but our aim is to give you enough information for you to be able to have an understanding of what's happening and to therefore enable you to maximise the enjoyment of the training.
You will also then have a much clearer insight when returning for one or more of our training courses all designed to make you a better pilot and ultimately become a Spitfire Pilot.

All students considering training with us are advised to undertake this course before commencing any of our other courses.
Aim : To give you an appreciation of the level of training required in order to fly a Spitfire.
Ground School : 3 hours
Flight Training : 1 hour Tiger moth
45 mins : T6 Harvard
30 mins : Mk 9 Spitfire
Cost £5495
Course pre-requisite: Current ICAO PPL and Medical
Aim : To give you an appreciation of the level of training required in order to fly a Spitfire.
Ground School : approximately 6-8 hours
Flight Training : 1 hour 20 : Tiger moth (2x 40min lessons)
1 hour 20 : T6 Harvard (2x 40min lessons)
40 mins : Mk 9 Spitfire
Cost £7495
Course pre-requisite: Current ICAO PPL and Medical
Classic Wings Spitfire Training Courses
Booking Information
FOR MORE DETAILS CALL CAPTAIN BARRY HUGHES ON 01255 424671 OR EMAIL barry@classic-wings.co.uk