Warbird  Harvard Flights
Flights from £429
A trial flying lesson in the  Harvard is a truly unique experience as the opportunity for a flight in a warbird such as this is very rare – and you get the chance to take the controls yourself!
A real adrenaline rush for the pilot or non pilot alike – this powerful and exciting aircraft was used to train pilots converting onto the legendary Spitfire, and is definitely the next best experience to actually flying a Spitfire!
Choose from a 20 minute or 30 minute flight.
I just wanted to write and thank you for making the day extra special for all of us. Flying in a Harvard Warbird and getting the experience of flying a WW2 Fighter has made a dream come true for my Dad and he was thrilled that he got to do some loop the loops and barrel rolls, this really has made his birthday and is one of the best presents he's ever had!
What to expect from your  Harvard flight with Classic Wings
After a pre-flight briefing from your instructor and a walk round of the aircraft, it is time to climb into the cockpit and prepare for your flying lesson.
Taxy to the Hold where your instructor will effect the take off and climb into the air. During the flight he will demonstrate the controls then give you the chance to take the controls for yourself. You will be piloting a Warbird – awesome!
On saturday I had a flight in the Harvard, just want to say a VERY BIG thank you to Neil, the pilot, for making it the most memorable day of my life, I will never forget it. I am still grinning now!!!!!
Choose your Warbird Flight Options: Select a Date & Time or a Gift Voucher
This flight experience experience includes entry to the superb IWM Duxford, personalised gift voucher valid for 12 months, personalised 1930s style presentation pack, a 20 or 30 minute flight with a fully qualified instructor, and the opportunity to take the controls yourself.
Flight dates are limited and take place approx 4 times per month.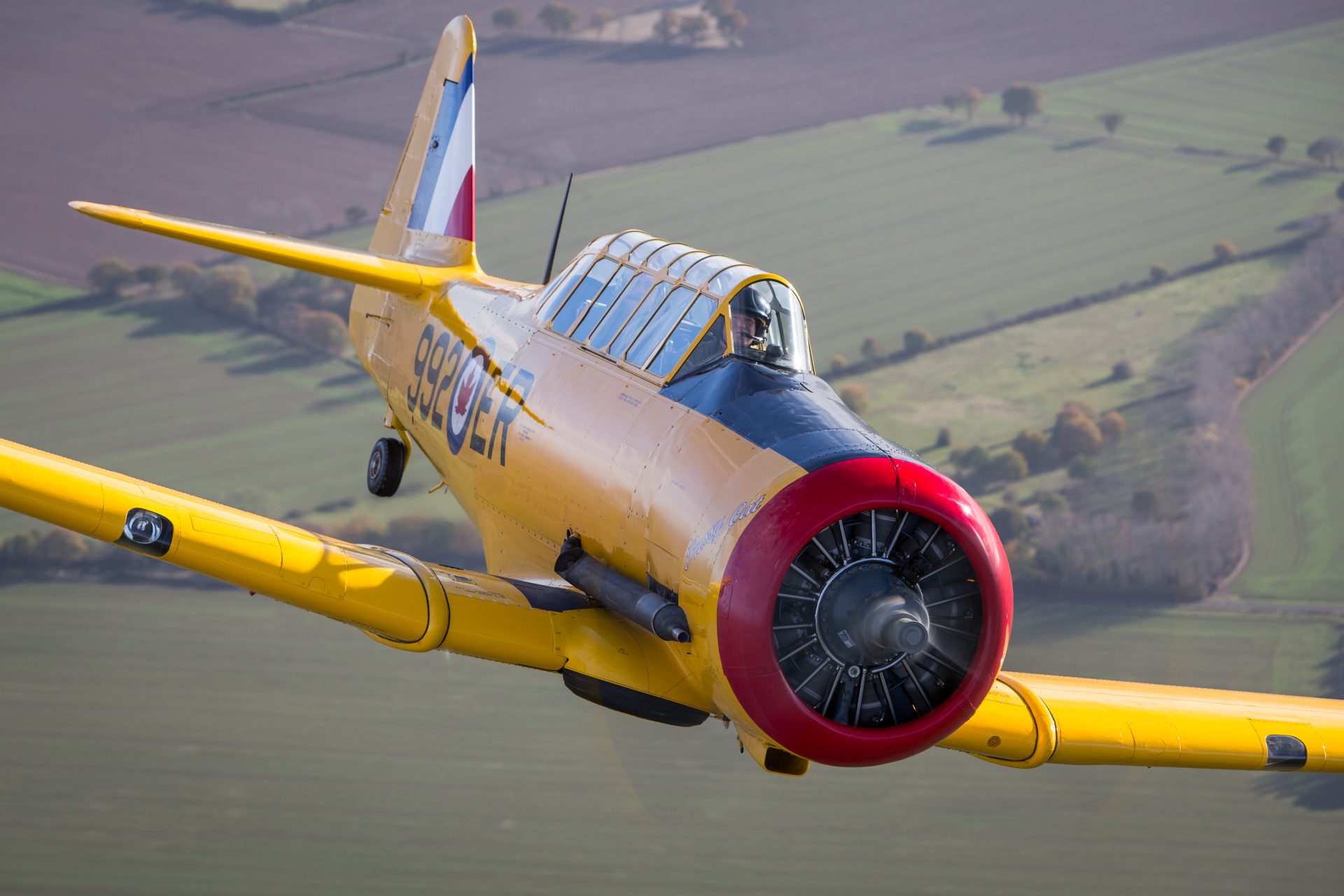 Warbird  20 minute flight ~
£429
Warbird 30 minute flight ~
£539
Restrictions – Weight limit is 18 stone and you must of good health and agile enought to climb into the cockpit. No previous flying experience required, but if you have flown a light aircraft before then let us know.  
Clothing Requirements – Just wear comfortable clothing.
Weather Restrictions – This activity is strictly weather dependent and you must phone the venue to check the weather is suitable for the flight.
Other Information – Vouchers are strictly non-refundable unless returned within 14 days of purchase.
ALL BOOKINGS ARE CONFIRMED INSTANTLY BY EMAIL.
Please contact us if you do not receive your confirmation email immediately after booking.
Thank you for making Dad's birthday flight such a great success. We all had a great day at Duxford. A big thank you to Mike for letting Dad take control! The whole day was very much enjoyed by three generations.