Fly in a Spitfire
Price per person from £2750
Realise the ultimate aviation dream. A flight in the iconic Spitfire is a truly unique experience and a day that you will never forget.
Following a detailed pre-flight briefing you will follow in the footsteps of the few as you take to the sky in the T9 Spitfire. During your flight our skilled pilot will demonstrate the awesome capability of this aircraft and it may be possible to experience this aircraft's signature manoeuvre, the victory roll.
On returning to Duxford your day is far from over. IWM Duxford is the largest living aviation museum in Europe with 85 acres of stunning exhibition space and a truly immersive experience. Take the time to soak up the atmosphere and enjoy a full day out with the whole family.
Want to know what it's like to fly in a Spitfire at Duxford? Here's what our previous passengers have to say about their amazing experience.
Choose your Flight in a Spitfire Options:
Select a Date & Time or a Gift Voucher
We currently offer 2 flight options
Spitfire flight 30min ~
price per person £2750
This flight offers plenty of time to get to grips with the manoeuvring capabilities of the T9 and is our most popular option.
Spitfire flight 50min ~
price per person £4850
Duxford is steeped in aviation history as is the surrounding area. With this extended flight you will have the chance to see some local military landmarks from the historic to the cutting edge.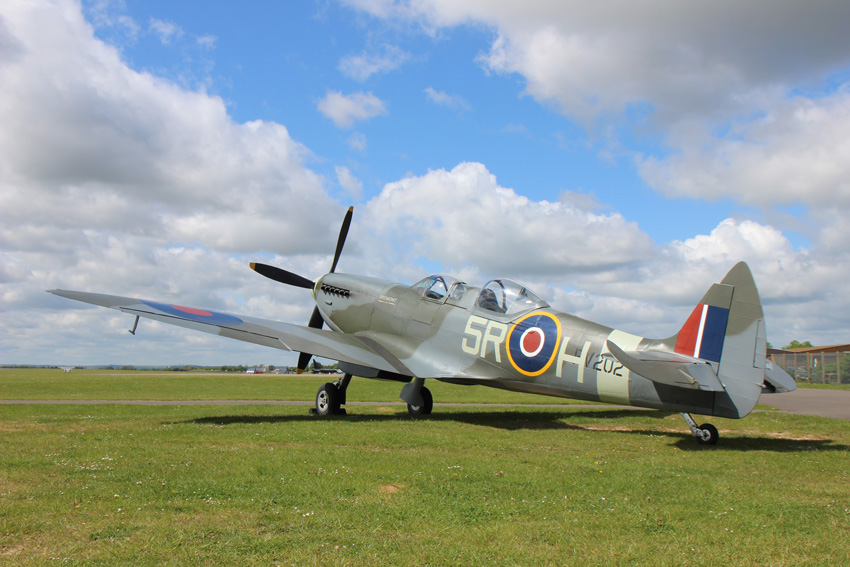 *Please note that there are strict pre-entry requirements for these flights which are explained below, please be sure to read this information before booking.
ALL BOOKINGS ARE CONFIRMED INSTANTLY BY EMAIL.
Please contact us if you do not receive your confirmation email immediately after booking.
We are sure that this Fly in a Spitfire experience at Duxford will be a day you will never forget!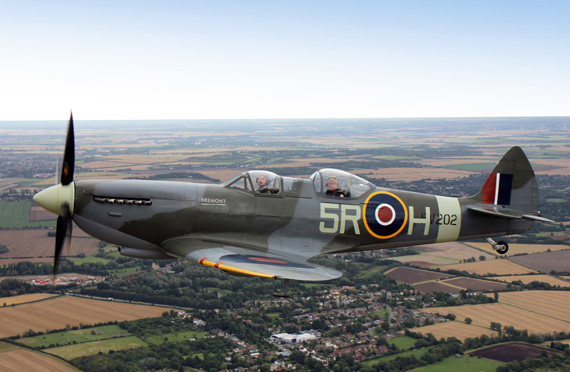 We often talk of "once-in-a-lifetime" opportunities,  but flights in these rare two seater Spitfire flights really do fall into that category!
What's included:
Welcome to Duxford by Classic Wings staff with refreshments on arrival
A detailed pre-flight briefing covering the aircraft, equipment and in-flight safety procedures
A  30 or 50 minute flight experience in the rear seat of a T9 Two seater Spitfire (this may not always be the aircraft PV202 featured in our promotion material)
Helmet, flight suit and parachute are provided for the flight
Q & A session with the team with up-close access to the aircraft
Flight debrief and opportunity to take photographs with the aircraft
Souvenir flight suit patch to take home
Souvenir flight certificate
Professional photo of yourself seated in the Spitfire
A great day out at IWM Duxford with free entry for the voucher holder and one guest, plus  half price entry for all other accompanying spectators
Insurance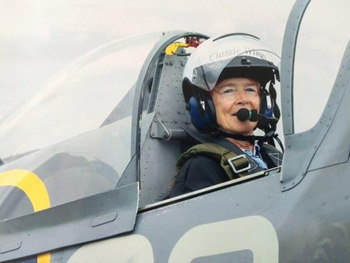 The flight exceeded all my expectations, so much time with control of "the stick"! It was a fantastic flight experience to celebrate my 60th Birthday and we had four generations of the family there. Everybody from the oldest, mum and dad (reminiscing about their war experiences) to the youngest, both our grandchildren, thoroughly enjoyed the whole day at Duxford. Truly unforgettable.  (Derrick, Staffordshire)
I am a pilot, it was my dream to fly a Spitfire which I did earlier this year, words simply can't express the emotion this brought me. (Keith, London W14)
Flights operate on selected weekdays and weekends throughout the year from April through to October.
Restrictions – Minimum age 18 Years old. You may need to provide photographic ID Passport/driving license
Maximum Height 6ft 6 inches (198cm), no minimum height.
Maximum weight 230 lb, 105Kg You will be weighed and measured on the day
You need to be healthy and agile enough to climb into the aircraft and safely experience the dynamic nature of the flight – if you have any concerns over your suitability you should consult your GP. You should not participate if you are on prescription medication, suffering from a cold, are pregnant or suffering from any condition affecting your breathing or consciousness
It is generally accepted that if you are fit enough to hold a private driving licence you should be fit enough to participate in this activity.
Passenger dimensions must allow full and unrestricted movement of the control column.
Availability – WHEN BOOKING A DATE AND TIME – PLEASE NOTE THE TIMES GIVEN ARE FOR THE PRE-FLIGHT BRIEFING AND NOT THE ACTUAL FLIGHT TIME. Flights are available on selected dates throughout the season between April and October. Availability is limited and operate on a first come first served basis.
Duration – The flight experience times are from when the aircraft moves off to when it comes back to a standstill (known as chock to chock). Airborne time will be approximately 10 minutes shorter than your chosen experience time. Please allow at least half a day, and ideally a whole day, at the venue to allow for pre-flight briefings, Q&A sessions with the pilot, photography time, and for any weather delays.
The Aircraft – Due to aircraft availability and maintenance schedules, the T9 Spitfire used may not always be the aircraft PV202 featured in our information.
Spectator Information – *Please note that accompanying friends and family must enter the Imperial War museum in order to watch the flights, but will be entitled to 50% discount on the usual admission fee.
Meal Arrangements – Light refreshments will be provided on arrival and there is a Restaurant and several cafes available on site.
Weather Restrictions – All flights are weather dependent and therefore subject to suitable flying conditions. If a flight has to be cancelled it will be rebooked for an alternative date.
Clothing Requirements – You will be kitted out with your own PPE (personal protective equipment) consisting of a Flight Suit, Helmet and Gloves. You will need to provide your own footwear; this should be sturdy and offer ankle support.
A full information pack will be sent to you on receipt of your booking.